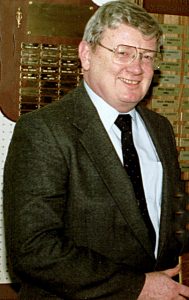 January 3rd, 2021
Dear LIUSBC members:
Sadly, I am writing you this evening to let you know of the passing of long-time association manager, Jim Maguire, this past Friday.
Mr. Maguire or "Dad" as I referred to him was not only a mentor to me personally but a friend to all of us in the bowling community. Locally, Mr. Maguire served as the Association Manager for the former Eastern Long Island and Long Island Youth Bowling Associations. In 2007, when the local associations were discussing a merger, Mr. Maguire was a settling influence and an integral part of the transition committee that combined the bowling associations to create what is now the Long Island USBC.
After the merger, Jim was appointed the first Association Manager of Long Island USBC, serving until his retirement in 2015. Besides his commitment to bowling locally, Jim also donated his time to the bowling community in many other ways, including being a former Board Member for the American Bowling Congress where he was named Chairman of the national finance committee.
Mr. Maguire was also a founding member of the Northeast Council of Bowling Associations, a group that invites local bowling association board members and officers to bi-annual meetings to discuss the trends in the bowling community. These meetings create and share ideas to help the local associations work together to improve the experience for their membership. For his work in the bowling community, Mr. Maguire was inducted into the Long Island Bowling Hall of Fame in 1989.
For those wishing to pay respect to Mr. Maguire, viewing hours will be on Tuesday, January 5 from 2:00pm to 4:30pm and from 7:00pm to 9:30pm at Powell Funeral Home located at 67 Broadway in Amityville. Funeral Mass will be Wednesday, January 6 at 10:45am, Our Lady of Lourdes Church, 855 Carmens Road in Massapequa Park.
Please keep the entire Maguire family in your thoughts and prayers during this difficult time.
With Deepest Sympathy,
Anthony Martinez
LIUSBC President